A major telecommunications company wanted a planning tool that could support their multiple enterprise planning processes including Annual Budget, Long Range Planning, Monthly Forecasting, and What-If analysis.
They also wanted a system that allowed the business to adapt to new market conditions more rapidly, provided better business intelligence through enhanced analytics and reporting capabilities, and even enabled rolling forecasting.
And it had to be fast. Performance was a necessity for this planning group who had seen their computer systems get faster and faster while their planning processes got more bogged down whenever functional enhancements were made or more data was added.
This large company was a long-time user of Oracle's Hyperion tools, and understood the power that Essbase delivered to them in collecting, calculating and storing their Performance Management data. But they wanted a tool, and more specifically an application framework, that would harness Essbase's power and deliver an application to their planners that met all their challenging requirements.
They chose Dodeca from Applied OLAP.
Dodeca allowed them to develop a driver and trend based system, where data flows downstream through 16 functional models with varying degrees of detail, and where planners can forecast customer trends that drive revenue, such as additional connections, disconnects, and upgrades. The solution aggregates updates into fully consolidated EBITDA financial statements in minutes rather than hours required in their previous system.
They were able to build and deliver an application that achieved nearly instantaneous response times of advanced calculations in each functional model. Planners can choose between various planning methods for each reporting line. Driver based calculations, trends based on nominal numbers, percentage increases, monthly, year over year, and direct input with manual updates are all available for planners to employ across all models.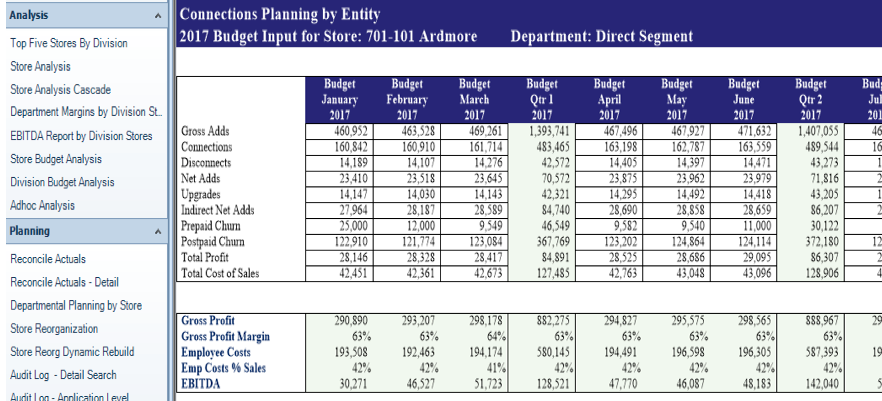 Their performance requirements were met because Dodeca enables seamless integration of over 15 dimensions combined across multiple high performance Essbase cubes. The solution's management and control capabilities allow administrators to easily open, seed, close and publish each planning cycle.
And the entire system was developed and delivered in half the time of their previous implementation of a similar application.
When it comes to flexibility, performance, and solutions that meet complex business needs, Dodeca delivers!
About Applied OLAP, Inc.
Applied OLAP, Inc. was founded in 1998. The company's flagship technology, the Dodeca Spreadsheet Management System, turns business spreadsheets into a managed and secure analytic resource that drives enterprise success. Dodeca is used to create a company-wide spreadsheet management system that lowers operational costs and risks, and that produces accurate and dependable financial information to optimize corporate performance. Applied OLAP customers include Nestle, MasterCard, St. Jude Medical, Principal Financial, The Kroger Company, Manulife, Wells Fargo, and Verizon. For more information, go to www.appliedolap.com.