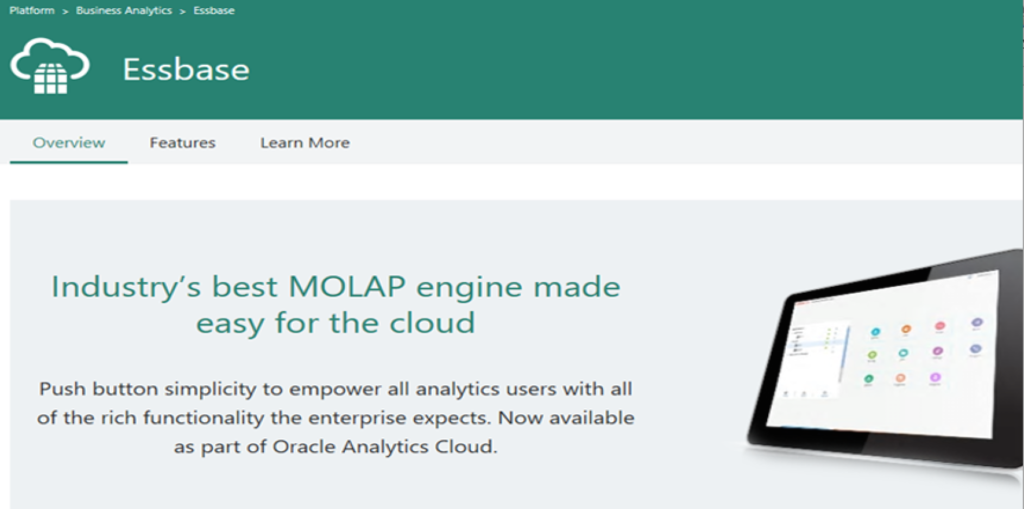 At last week's ODTUG Kscope17 conference in San Antonio I focused on learning more about the new cloud version of Oracle Essbase, and even got a little hands-on time with it.  Oracle launched the much-anticipated Essbase Cloud Service just a few months ago in March 2017, marking a turning point in the 25-year history of this industry-leading analytic application.
You can't buy Essbase Cloud Service alone – it's sold as Oracle Analytics Cloud (OAC) and comes bundled with other business intelligence cloud products.  Oracle offers two levels:
OAC Standard: Essbase Cloud Service with Data Visualization (DV)
OAC Enterprise: Essbase Cloud Service with Business Intelligence Cloud Service (BICS), which includes DV
Essbase Cloud Service has nearly all the commonly used Essbase features that we know and love.  In its initial iteration, Oracle seems to have gotten very close to matching the functionality of the legacy on-premise product – including Block, ASO and Hybrid cubes, dynamic formulas, calc scripts, and connectivity through Smart View.  Drill-through is not yet available but "coming soon."
The Enterprise level of Cloud Essbase offers Scenario Management and Sandboxing, new features that aren't (and I understand won't be) available in the on-premise version.  Sandboxing is a way to create new "scenarios" of your cube's data without increasing the size of your cube.  Essbase stores only the differences between the original and updated numbers.
As you might expect, the user interfaces are very different from the on-premise version.  One of the key developments with the cloud version is Cube Designer, a Smart View extension that enables you to design applications using Excel templates.  It's an easy way to create an initial design and make updates, however developing a truly "productionalized" and optimized solution would still require technical understanding and some work under the hood.
Essbase Cloud Service is a Platform-as-a-Service (PaaS) not a Software-as-a-Service (SaaS).  This distinction has technical and pricing implications: you don't pay per user per month, rather you pay for access to a server environment.  Your Essbase cloud environment can host any number of cubes and any number of users, within hardware constraints.  The infrastructure can be scaled to accommodate greater usage if and when needed.
Want to learn more? You can get more info about Essbase Cloud Service and OAC on Oracle's website, or reach out to Analysis Team and we'd be happy to fill you in!