The Association for Financial Professionals (AFP) recently published its 2017 FP&A Survey "How Relevant is Your Budget?" The AFP surveyed just over 600 financial professionals in organizations spanning a wide range of industries and sizes, both publicly owned and privately held. The results provide insights into the usage of budgets and budgeting styles, how useful senior managers (by role) perceive the budget, and the relevance of budgets for monitoring performance and managing the business.
The survey summary is available on AFP's web site. Among  the key findings are interesting benchmarks of budgeting methods, giving you an opportunity to see how your approach compares to peers. The survey contrasts "intense budgeters", organizations that take longer for their budget process, with "fast budgeters" who spend less time.   As you'd expect, "fast budgeters" tend to be smaller and privately-held companies. The survey also looks at the degree of managerial discretion and budget flexibility, revealing how many organizations treat their budgets as "iron-clad", "tight", "loose" or "non-binding."
AFP found that respondents have a high level of support for budgets and are generally satisfied with how the budgets are used, even across different planning methods. But the survey also found that 64% of respondents say the budget process could be streamlined. In the summary report, AFP mentions a possible reason: That budgets are "still driven by top-down requirements rather than by operational needs." Many respondents also indicated that if budgets were replaced by a continuous forecasting process their organization's performance would be impacted (46% "yes" and 33% "maybe").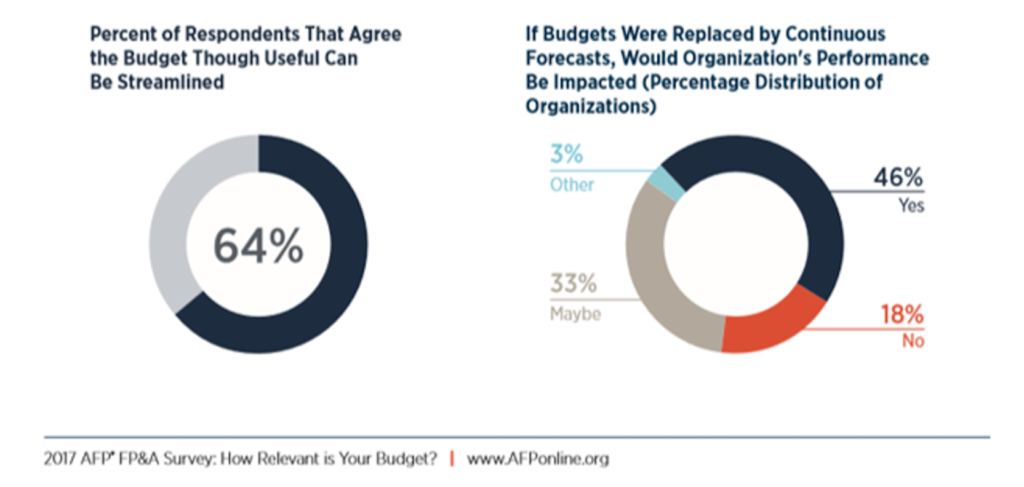 So Finance is calling for improving the process. As a finance guy myself and having worked with clients to implement planning and reporting solutions, I'm familiar with several ways the budget process could be streamlined and made more relevant. Look out for a white paper I will publish soon that describes opportunities for improving the planning process.
Are you feeling some budget process pain? Feel free to let me know what changes you would make in your process and I might quote you in my white paper (anonymously, if you prefer)!